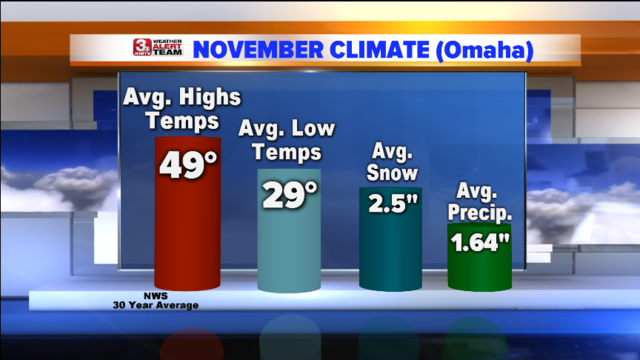 As I've mentioned in the past, October is a transition month, and we often experience both summer-like temperatures and fall conditions in the same month. That is exactly what occurred throughout October 2017. We started off well above-average with a high of 84 on the 2nd, but then we ended the month significantly below normal.
When you combine the morning lows and afternoon highs, our monthly average temperature was slightly warmer than normal for the month.
It was also a wet month, with several fronts passing through the first couple of weeks in October giving us soaking rain. Colder air by the end of month generated a few flurries, but it wasn't measurable.
October is not typically one of our wettest months with average precipitation just over two inches. This is the first time since March that we ended the month with above-normal precipitation by a large margin with almost four Inches recorded at Eppley Airfield.
Now that we have started a new month, what can we expect to see in November?
As I dig into the model data, this November may bring below-normal precipitation and near or slightly below-normal temperatures.
There will be series of fronts that will arrive throughout November bringing in some chances for rain and snow, but the current trend doesn't show any significant snow events through the end of the month. That doesn't mean that we won't still see our first measurable snowfall over the next few weeks.
What constitutes our first measurable snowfall? We would need at least a 10th of an inch of snow on the ground.