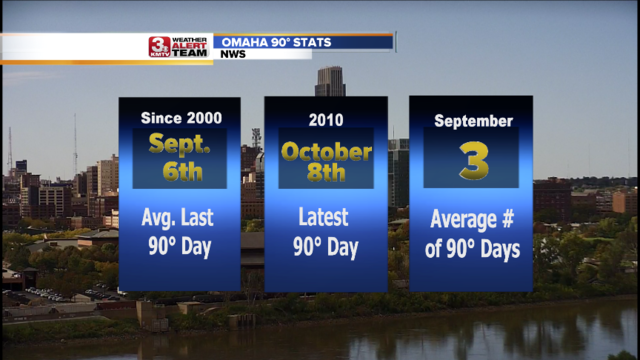 The warming trend we've been forecasting is now in full swing. After being void of 90° heat in Omaha since August 1, we are going to experience back-to-back days of highs in the 90s.
We haven't experienced this kind of heat since the middle of July when we hit 100°, and it's been 2 months since we've had consecutive days with highs in the 90s.
Most years in September we can see three 90 degree days, and the average date of our last 90° day in Omaha is September 6. The latest date we hit 90 since 2000 occurred on October 2, 2010.
What's driving the September summer heat wave? We are sandwiched between a ridge of high pressure to the south and a cold front to the north. These two systems are allowing a strong southerly flow to pump warm air from Texas our way.
We aren't the only ones experiencing this heat wave, the 90-degree heat, and in some cases triple-digit heat, extends across the southern and central Plains states.
The heat will stick around for the first half of the weekend, but as a front moves in, temperatures will cool off. However, it is short-lived as warmer air returns next week.