What Is A True White Christmas And How Common Are They?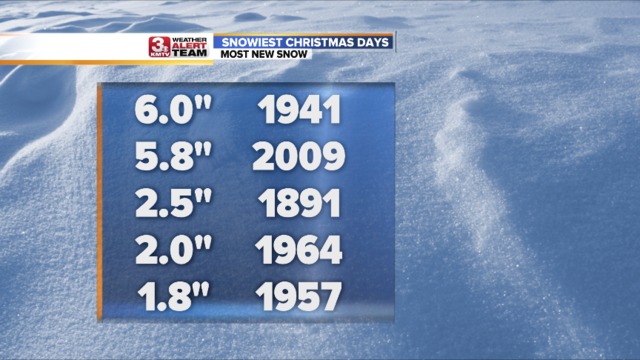 If you asked five people their requirements for a white Christmas, you could easily get five different answers. Of course, they all involve snow, but the amounts can be different along with when the snow needs to fall. Some people just want snow on the ground Christmas Day, while others want the snow to actually fall ON Christmas Day.
The official definition for a white Christmas used by the National Weather Service (NWS) just requires one inch of snow to be on the ground Christmas morning. In Omaha, that snow measurement happens at 7 am. It doesn't matter if the snow fell two weeks before Christmas or an hour earlier. As long as there is one inch on the ground at 7 am on Christmas, it's a white Christmas according to the NWS.
So, what's the most snow we've ever woken up to (NWS data since 1893) in Omaha? In 1983, there were 13 inches on the ground. A more recent snowy Christmas morning landing in the top 5 was 2009 with 10 inches. Here's the rest of the list...
While the NWS tracks snow on the ground, other people like to see their white Christmas snow actually fall from the sky on Christmas. The most snow on record (since 1871) to fall on Christmas Day was 6 inches in 1941. But that is not common with the top 5 list going all the way down to only 1.8 inches in 1957. More memorable is once again 2009 with nearly 6 inches falling on Christmas.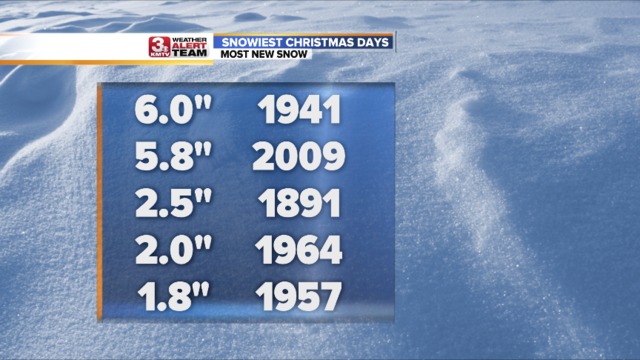 A white Christmas in Omaha may be less frequent than you'd guess. Using the NWS definition of an inch on the ground at 7am on Christmas... this happens only once every 3 years on average, or 33% of Christmas mornings. But only 15% of Christmas Days in Omaha see at least 0.1 inches of new snow fall from the sky. Or if you just want any amount of snow to fall on Christmas, that happens 37% of Christmas Days.
December 2017 has been mild and dry leading up to Christmas. We've only measured 0.1 inches of frozen precipitation the entire month as of December 19th. On average, December sees 6.2 inches of snow, so we are running well below average. December 2016 brought multiple days of snow, but on Christmas Day, it rained! We had better luck in 2015 when we woke up to 7 inches of the white stuff! Since 1893, on average, we've woken up to about 1.4 inches of snow.
While it's not looking too good for a white 2017 Christmas, we can still keep our fingers crossed the next few days!