Hurricane Irma: Nebraska, Iowa crews preparing to assist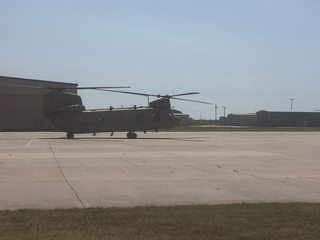 Nebraska Task Force 1 is in Florida today to help Hurricane Irma victims, and members of the Nebraska and Iowa National Guard units are en route to do the same.
Just last week, members of the task force came back home after serving in Texas for Hurricane Harvey.
Updates from their Twitter page show the unit is still at Eglin Air Force Base waiting for Hurricane Irma to pass. Then, they will be placed where they are needed.
NE-TF1 In-processing at Eglin AFB where they will stage waiting out Hurricane Irma. pic.twitter.com/VapgIdN4NY

— NE-TF1 (@NE_TF1) September 11, 2017
In the meantime, they're getting some additional training in with their K-9s.
NE-TF1 K-9's getting some additional training in and "stretching their legs" at Eglin AFB waiting for Hurricane Irma to pass pic.twitter.com/CJc50bIiEt

— NE-TF1 (@NE_TF1) September 11, 2017
The Nebraska National Guard is headed to Florida for Hurricane Irma relief operations. Four Nebraska Army National Guard helicopters and 100 Guard members left Nebraska for Florida on Sunday.
A headquarters company out of Lincoln and Grand Island will also deploy and will serve as an aviation task force.
The Iowa National Guard is also headed to help in Florida.
Four helicopters and 19 soldiers are departing today.
The aircraft and crew members will move supplies, equipment, and people as well as support search-and-rescue operations.