Papio pooch adds comfort to the classroom
In the Classroom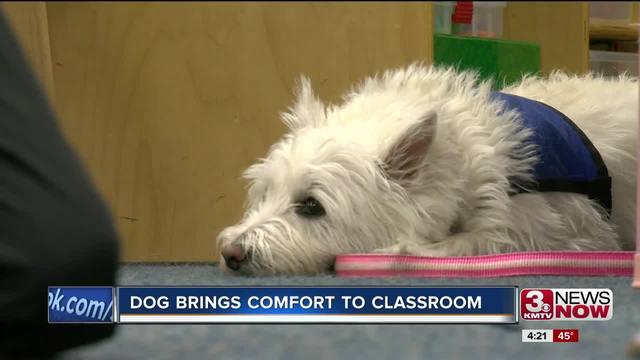 PAPILLION, Neb. (KMTV) - Students in Kelly Vornbrock's second grade class at Patriot Elementary in Papillion are a big fan of one little lady in the classroom - Phoebe.
The 8-year-old West Highland Terrier comes to class with owner, Vornbrock. She is a certified and trained therapy dog.
Vornbrock admits some may be surprised that a terrier, typically seen as a hyper breed, could be calm in a classroom. "Her vest is her sign she has to go to work. When I put her vest on she's a completely dog. At home, I still see a lot of the puppy behavior."
Vornbrock says she brings Phoebe a couple times a week but sometimes more as a reward for students. Phoebe also goes out for recess and interacts with other students in the building. She says Phoebe helps students learn responsibility and respect. They help walk her and get her treats. Vornbrock says, "their voice level has to be a little quieter because she has sensitive ears, they know they have to pick up their pencils and their crayons."
And Phoebe is a friendly face when a student needs it. Vornbrock says, "I've seen her sit with students who have autism when they're starting to feel really overwhelmed. She'll sit under their chair, and they'll just reach down and pet her."
Students told us they are a fan of Phoebe and find she often comes over when they need a smile or she needs a quick pet.
There have been three dogs in Papillion La Vista Community Schools, Sunnie is owned by Vornbrock's mom and Summer is owned by Vornbrock's sister.