Handley: Gabinet hire just might work for UNO
Mike Gabinet is ready for the big stage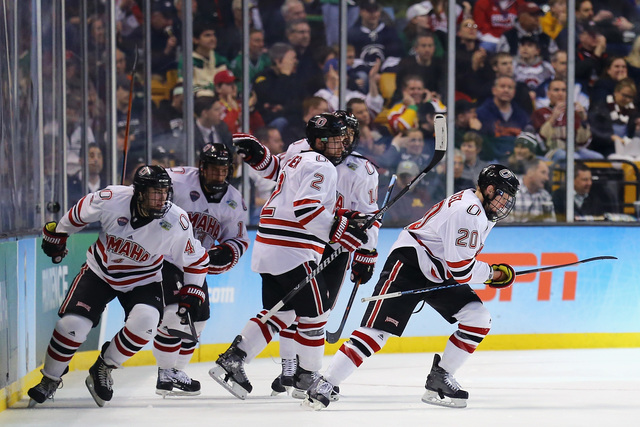 Mike Gabinet may not be a household name when it comes to college hockey. There were more established coaches that were rumored to be linked to the UNO coaching vacancy after Dean Blais stepped down. Some fans were hoping there would be a homecoming with former longtime Lancer head coach and Maverick assistant coach, Mike Hastings. He got himself a nice long term commitment from Minnesota State and decided to stay put. Mike Guentzel had spent a year on the UNO bench and is regarded as one of the top coaches in college hockey. His son, Jake had a great three year career in Omaha before going pro and still Mike Guentzel's name was not announced as the new head coach. It was Gabinet instead. The third coach in the 20 year history of the program.
Gabinet played defense for UNO from 2000-2004 and was an assistant captain his senior year. He was a Los Angeles Kings draft pick and played in the AHL and in Europe before going the coaching route in 2012. The Edmonton native joined the Northern Alberta Institute of Technology coaching staff before taking over as the head coach in the 2015-16 season. He led the Ooks to the Alberta Colleges Athletic Conference championship with a perfect 36-0 record. Gabinet then joined the Maverick coaching staff last season and made an important impact. The Omaha power play was anything but powerful before Gabinet came on board and under his guidance it became one of the best in the country. So this is everything that we know about the 35 year old coach. What we don't know is how his guidance will impact the entire hockey program's future.
When you look deeper into the hire of Mike Gabinet, it makes a lot of sense. There is a hockey intelligence that clearly comes across when interacting with the coach. He has a vision, a philosophy for success, and most importantly he has the support from the men that matter. Omaha Director of Athletics Trev Alberts and Associate AD/Former coach Mike Kemp are absolutely confident in the potential of Gabinet but it's the players that are all in on the hire. Several of the current Mavericks went to bat for the coach and spoke to Alberts and Kemp.They wanted Gabinet to lead them. That kind of support is important not only for the transition but for the future. Recruiting appears to be the biggest challenge for the youngest active college hockey coach but kids can identify with Gabinet. A former player now given the keys to a pretty nice ride with all of the bells and whistles. Spend a few minutes with the new coach and you will be a fan. He's friendly, he's knowledgeable, he's a family man, he's driven and best of all, he is a Maverick. It means that much more to him. He will sell the program just fine. Will it lead to stability and a winning culture that will make UNO a consistent NCAA tourney participant? Only time will tell. I will say this, Mike Gabinet is qualified to lead this program and it might just work out well.