Omaha hockey head coach Dean Blais steps down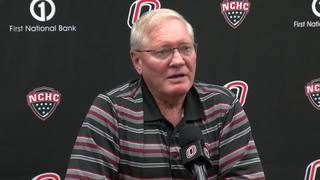 Omaha hockey head coach Dean Blais announced that he is stepping down from his position.
The University of Nebraska Omaha Athletics released the following statements:
"I have been extremely fortunate in my career to work in so many good places with so many people who care about the game of hockey," said Blais. "Omaha is one of those places. Our administration, led by Trev Alberts and Mike Kemp, have been very supportive during my time as UNO head coach, and our fans are some of the best in college hockey.
"That's what has been most important to me in my career – the relationships I have made everywhere I've been," added Blais. "My experience in Omaha has been so much fun, assisting Trev and Mike with the moves to two different leagues and the building of Baxter Arena. It was challenging but all very positive.
"And more than anything else, I have forged so many great relationships with our student-athletes, many of whom have gone on to play in the National Hockey League. They were great students, and great people. In the end, that's what I appreciate the most. Jackie and I are going to miss Omaha, and we are looking forward to the next chapter."
"Dean has been a remarkable leader for our hockey program during the last eight seasons, and he leaves it in a more prominent position nationally than when he began here in 2009," said Trev Alberts, Vice Chancellor of Athletics. "Milestones were a regular occurrence on his watch.